Another year has ended showing lots of ups and downs to us. Being one of the topmost NGOs in India, we were awarded as one of the biggest Crowdfunding Success.
We have been functioning for 20 years and this long service, we've been honored with plenty of awards but every achievement is another stepping stone to achieve the greater good for the society.
SERUDS launched the year-end campaign on the GlobalGiving Crowdfunding platform and was thrilled to know the stupendous response we received both from the donors and the site themselves. It resulted in one of the biggest Crowdfunding Success.
We received a certificate from GlobalGiving a 501c3 Tax Deductible Charity in USA acknowledging SERUDS NGO as one of the most outstanding participant partners for the year ending the campaign.
Here's a copy of the certificate: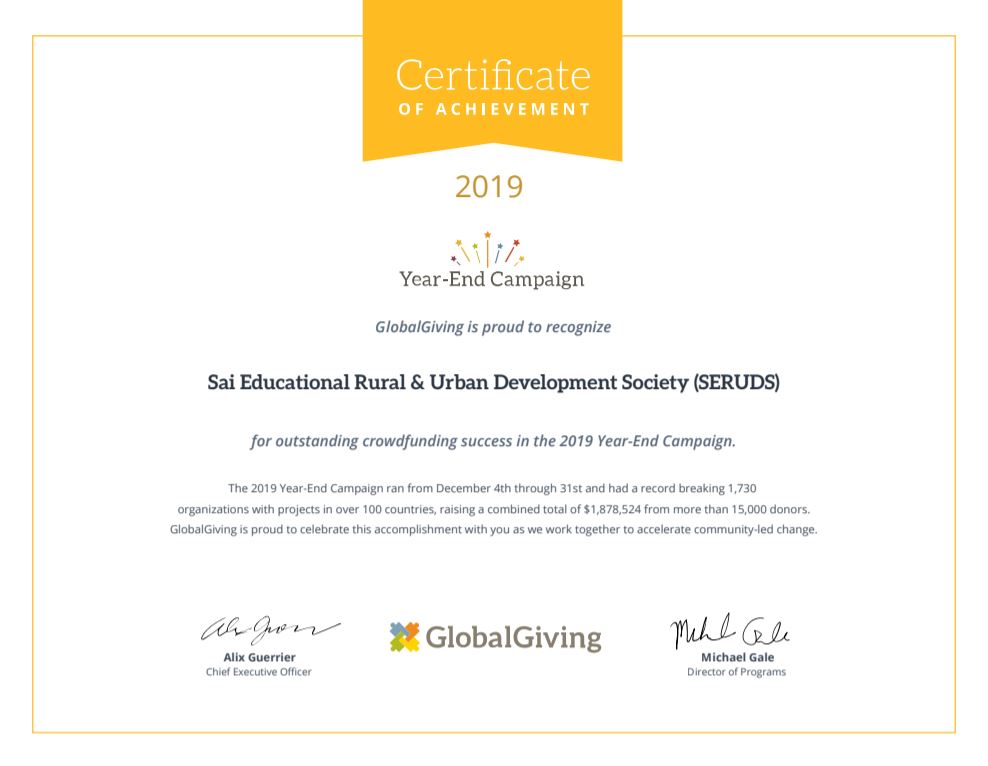 SERUDS has been leading the charitable works in India with full transparency. Every single penny donated is rightfully used to the intended cause and the receipts are promptly sent.
Our president Mallikarjuna Gorla shared his views, 
"We don't work for awards, we work for the people but such awards encourage us to be better at what we do. Thank you GlobalGiving"
GlobalGiving is a crowdfunding website where the amount is collected on behalf of NGOs and duly forwarded to the cause. Click to read review.
Donate to SERUDS projects listed on GlobalGiving.
Start your donations with SERUDS NGO. Click here.