Donate and Save Tax under sec 80G of Income Tax
How to Calculate and Claim Deduction under 80G
Donate Now for Elderly Care, Child Education, Orphanage, Women's Welfare.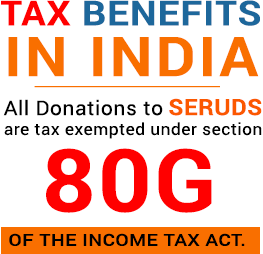 Get instant tax exempt 80G receipt.
Donations to SERUDS Charity will be eligible for 50% tax exemption under Section 80G of Income Tax Act. Indian Donors will get instant Tax Exemption Receipts their email address.
Make Section 501(c)(3) tax deductible donation
Tax Payers in USA are eligible for tax exemption for their tax deductible donations when donation are made for SERUDS through 501(c)(3) nonprofit organizations : Give2Asia, Save the Child Foundation (AshaJyothi USA), and Silicon Valley Community Foundation (SVCF).
SERUDS has been Verified!
SERUDS has completed due diligence norms and listed with Global Giving Foundation, LetzChange, Milaap, Godparents, Icharity, Credibility Alliance VaniIndia & Guide Star India.
SERUDS supports orphans, destitute elders, poor girl students, disadvantaged women, COVID-19 relief through its programs. We are a charitable organization in Kurnool, Andhra Pradesh and are funding our charitable causes solely through donations from generous people like you
FAQ. Your Questions on Sec. 80G Answered.
Income tax department allows reducing of the taxable income of the taxpayer in case the taxpayer makes certain investments or eligible expenditures allowed under Chapter VI A.
Another way you can save tax while doing some good work is by using the deductions available under Section 80G of Income Tax Act. Section 80G of the I-T Act allows donations made to specified relief funds and charitable institutions as a deduction from gross total income before arriving at taxable income.