Helping Disadvantaged Children, Women, Elderly
Children's Home shelters 60 orphans and street children. You are welcome to sponsor these abandoned orphan children for their education or living expenses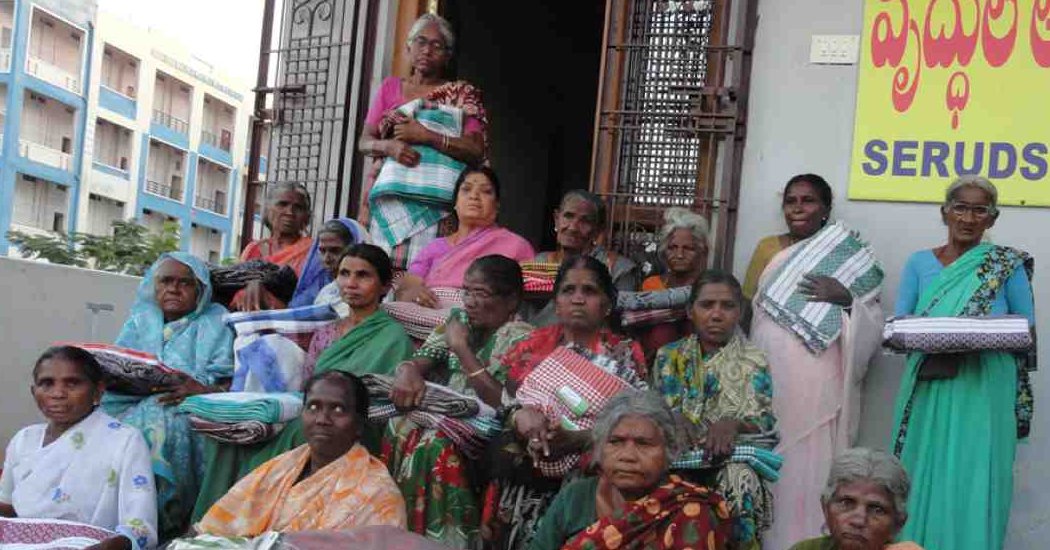 At SERUDS Home for the Aged, we have adopted good practices in order to provide a healthy, productive and participatory life to the elderly women residents.  We are able to run this old age home with generous contributions from individuals like you, and corporates.
Aim of this project is to identify and support 500 underprivileged girl students from slum communities, who are studying in classes V to X in government schools.
Every year, we distribute the educational material kits to these girls
Seruds has been sponsoring selected children with school fee & tuition fees. You can sponsor a child for education by by donating Rs.24,000 for 1 year or as little as Rs 2000 for a month,
We support 80 children, three creche or day care centers around Kurnool.
You can sponsor midday meal to creche centre children, give toys, sponsor their education; contribute for staff salaries, health check up, medicine, clothes, etc.

SERUDS has been supporting 20 destitute old women by providing food rations and other necessities every month.
Under our Sponsor an Elder Scheme, you can sponsor a destitute elderly woman by donating Rs. 1950 every month, and enable her to live with dignity.
Rebuilding lives of the disadvantaged
Sai Educational Rural & Urban Development Society (SERUDS) is a  Non Government Organization (NGO) in Kurnool District of Andhra Pradesh, India working as a charitable society or trust for the welfare and development of deprived street children, orphans, destitute women, poor old age people. SERUDS has been working since 2003 through its need-based programs focused on access to education, food, livelihood training and healthcare.
Seruds registered under 12A, 80G & FCRA.
Donations to SERUDS Charity will be eligible for 50% tax exemption under Section 80G of Income Tax Act.
Get Involved : Help the Needy
Helping People in Need
Seruds Welfare Reviews
It is a wonderful initiative materialization of a great thought needs a lot of energy, heartful service, selfless social service leads to a better society. I shall support these types of NGOs with unique model of AIM
"A privileged to be a volunteer at Seruds India Ngo in Kurnool city Andhra Pradesh, India. Seruds a nongovernmental the organisation is dedicated towards empowerment of the ladies, street, orphans and semi orphan children, old destitute people by providing food, educational and medical support. It is also involved in mid day schemes for old destitute people, creche facilities for the children and materialistic support to empower ladies by generating employment."
"After having the opportunity to work with the Seruds team and Mr.Mallikarjuna, I would like to express what a great job they are doing. From the orphanage to the mid-day meals to the old age persons, the Seruds team is definitely a blessing for the people of Kurnool. I wish the team all the best and success in their future endeavors."