Women Development, Empowerment & Education
Donate for Women Empowerment, Education, Livelihood Training
Saving Women from Poverty
Women face discrimination across the world. This had led to great disparity in education, income, wealth and health. Women account for just 10% of the world's income and own less than 1% of the world's property. In India, the rate of literacy for men is 80.9 per cent as compared to 64.6% for women, and their participation in labor force is only 29%.
Women Empowerment implies giving them independence, and choice in how they want to lead their lives. Freedom to choose to pursue education, whom they want to marry, career, bringing up children and more. When a woman is empowered, she can identify her skills, knowledge & abilities to make her own decisions. Empowerment is an evolving growth process for her, which gives her self-esteem, confidence to face society, and participate in community development.
If a society to develop socially and economically, women empowerment is essential.
SERUDS Women Development activities aim to empower women so that they can become earn their own incomes or become entrepreneurs. We provide sustainable livelihood opportunities through training programs in Computer Software Skills, Tailoring & Embroidery, and Fashion Designing. We also provide financial support in terms of arranging loans, providing free sewing machine and sewing kit.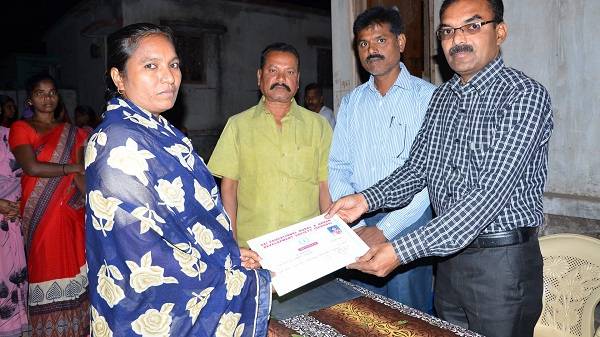 Vocational Training Programs for Poor Women
Economically disadvantaged women in villages and urban slums of Kurnool District lack education and employable skills; they migrate to cities in search of low-skill jobs or work as domestic help, agricultural laborers, and as maids in schools, hospitals, shops and establishments.
SERUDS has conducted baseline survey to identify skills needed in the job-market and has developed training programs for women to help them become micro entrepreneurs or get better paying jobs.
There is great demand for computer trained professionals in Kurnool town and other districts of Andhra Pradesh. Considering this demand, we have developed a computer education project as part of skills development initiative.
SERUDS has identified the need for training in computers to the educated unemployed youth. We select the poor youth from rural villages, urban slums based on their family income, which should be low or below poverty line to be eligible for this program.
Every financial year we select 50 deserving poor youth to impart 6 months software training. The course syllabus includes Computer Fundamentals, MS Office, DTP, Internet Concepts and Soft Skills. We mainly concentrate on job oriented courses to create sustainable livelihoods and employment opportunities. During the training we provide study material to all the trainees free of cost.
Since 2006 we have trained 470 youth & girls and provided employment opportunities to 345 youth & girls and helped to 55 youth and girls to get loans with the banks and other financial institutions to start their own business. We provide job placement in private and government sectors in Andhra Pradesh. After completion of the computer course, certificates are awarded and course participants are placed in private and government sectors in Andhra Pradesh. So far, 345 young people have got opportunity to work in shops and establishments in and around Kurnool District.
How you can support computer training for jobs for Women:
We request you to donate for sustainable livelihood training to educated unemployed youth.
Sponsor to train one person in Computer Skills Training for one month Rs.1000.
Sponsor six-month Computer Training for one person Rs.6000/
Fashion Designing Training
We give training in fashion designing to poor women for them to find employment or set up their own business / micro-enterprise. The course duration is six months with batch size of 20 students; the curriculum includes basic cutting, fashion designing, tailoring and zari-work. To date we have provided theoretical and practical training in dress making to 120 women in Kurnool District.
We would like to expand this program to cover more women; this is possible only with your support. We request you to help us expand our work and support women get employment by your contribution.
Training in Tailoring & Embroidery
We have been providing 3-month training program on Tailoring & Embroidery to women every quarter. After completion of the training, each of the participants is given a free branded sewing machine and tool kit.
To encourage women empowerment, we assist them in establishing the unit, purchase of raw material and sale of finished products. We tie up with garment factories for supply of ready made garments, social welfare department for supply of school uniforms, with wholesale cloth merchants for supply of petty coats, baby dresses. As a result they earn Rs.150-Rs.200 per day. Every women/ girl are able to earn Rs.150 to Rs.200 per day. But they work over time for additional income for giving better facilities to their children. We request you to Sponsor sewing machine and tool kits for the trained women and girls in dress making & fashion designing.
We request you to fund for sewing machine and tool kits for women who have completed the training program.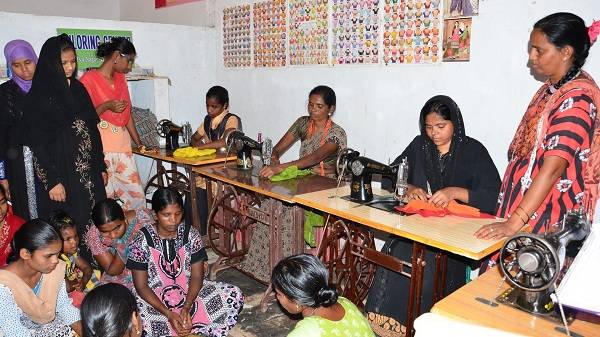 How to sponsor vocational training in Tailoring & Embroidery for women:
Cost of Sewing Machine Rs.4500
Raw material & tool kit for 3 months training Rs.3000
Total Sponsoring Amount for one woman INR 7,500
The need for women's education in India is critical. In India, nearly 40% of adolescent girls in the age group of 15-18 years are not attending school. It is only through education that women can become independent and self reliant.
SERUDS is working for women's education through multiple programs :
Sponsorship of Education of Girls
Distribution of free school education kit
Reproductive Health, Maternal Health Care, Newborn Child Health Care.
Providing free sanitary pads to girls