DONATE FOR CHARITY
✅ All Donations are tax exempted u/s 80G of Income-tax Act, 1961.
✅ SERUDS elegible to receive Foreign Donations under Foreign Contribution Regulation Act (FCRA) under Ministry of Home Affairs, Govt. of India, New Delhi
✅ Get online 80G Tax Exemption Receipts for Indian contributors to their email address.
Ways to donate online
The account name is "SERUDS"
Non-FCRA Bank Accounts – (donate money in Indian rupees only) – Domestic Donations:
| | | |
| --- | --- | --- |
| Name of the Bank | Account No. | IFSC CODE |
| ICICI Bank | 027901000952 | ICIC0000279 |
| HDFC Bank | 07421450000126 | HDFC0000742 |
| AXIS Bank | 244010100059158 | UTIB0000244 |
| State Bank of India | 30737287674 | SBIN0003185 |
* Please send your address to avail 80G Tax Exemption benefits from our charitable nonprofit organization under section 80G of Income Tax, 1961 Act.
Foreign Contributions only
FCRA Bank Account – Donate from outside India:
Name of the Bank
Account No.
IFSC / SWIFT 
State Bank of India
30083141442

IFSC CODE: SBIN0002801

SWIFT CODE: SBI-NIN-BB-825
Offline Donations to Charity in India
Donate through Cheque: We accept donations in Checks from National & International in INR / US $ / GBP / EURO  in any other currency.
You can make your donation in the name of " SERUDS " through check / D.D & send to the following address:
SERUDS
D.No.46-740, Budhavarapeta, Kurnool–518 002, Andhra Pradesh, India.
E-mail:- donate@serudsindia.org
Phone:- 0091 – 9849977577
Thank you for supporting Noble cause!
Donate Now to Support Elderly Care, Child Education, Orphanage, Women's Welfare in India
SERUDS supports orphans, destitute elders, poor girl students, disadvantaged women, COVID-19 relief through its programs. We are a charitable organization in Kurnool, Andhra Pradesh and are funding our charitable causes solely through donations from generous people like you.
SERUDS Orphanage and Day Care Centers
Rs.28,800 will Sponsor an orphan child for a year or Rs 2400 for a month
Rs.5000 will support daily needs of Orphanage
Rs.5000 will sponsor daily needs of kids in day care centers
Charitable Old Age Home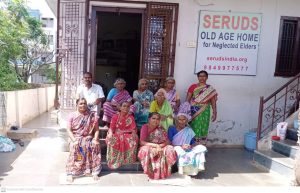 Rs.2750 will Sponsor a meal for 30 destitute elders
Rs.2500 will pay groceries for a poor senior citizen for a month
Rs.2500 will Sponsor one elderly person in the Old Age Home for Food & medical care for a month.
Rs.6500 will Sponsor daily needs of Old age Home

Sponsor Child Education
Rs.2840 will pay for educational material  for a girl child

Rs.2000 will pay for school fee for a girl student for one month and Rs. 24,000 for one year

Skill Development Training Programs
Rs 7500 will sponsor vocational training in Tailoring & Embroidery for a disadvantaged woman
Rs.6000 will Sponsor six-month Computer Training for one young person