In this article, we'll show you how you can contribute in three different ways: by donating clothes directly to SERUDS, by contributing funds through our donation page, or donate clothes in India to the homeless in your local area.
In India, where temperatures can plummet during the winter and rain can bring chilling discomfort, there's a pressing need to help those less fortunate. Many children and adults across the country shiver in the cold without proper clothing. You can make a meaningful impact by donating clothes to SERUDS India, an NGO committed to helping the needy. 
Listen on Spotiify:
Donate Clothes in India to the Homeless:
One of the most direct ways to make a difference is by donating your gently used clothes to SERUDS India. Here's how you can do it:
Collection Drives to Donate Clothes: 
Keep an eye out for SERUDS' periodic collection drives in your community. We organize these drives to collect clothes, blankets, and other essentials for those in need. You can drop off your donations at designated locations during these drives.
Contact SERUDS for Clothes Donation:
If you have a substantial quantity of clothes to donate or wish to organize a clothing drive in your area, get in touch with us. We'll coordinate with you to collect the donations and distribute them to the needy. 
For US Donors: Donate Via PayPal to India.
Donate Money for Clothes via our Donation Page:
If you prefer to support us financially, you can contribute funds to SERUDS India through our donation page. Your donations will be used to purchase warm clothing and essentials for those in need.
Visit Our Website to Donate: 
Go to the SERUDS India website and find the 'Donate' page. Here, you can securely donate any amount you wish to contribute.
Related Link: Donate Blankets in India to Homeless.
Specify Purpose: 
You can also specify that your donation is intended for clothing and essentials. Rest assured, your contribution will go directly to helping people stay warm and comfortable.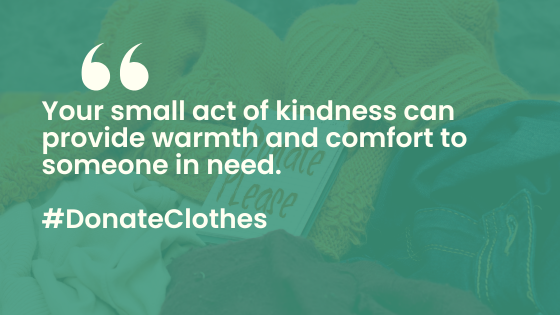 Distribute Clothes to the Homeless Nearby:
If you want to make an immediate impact in your local area, consider distributing clothes to the homeless. Here's how you can do it responsibly:
Gather Gently Used Clothes:
Collect clean and wearable clothing items that you no longer need. Ensure they are in good condition.
Locate the Needy and Distribute with Compassion: 
Identify areas in your locality where homeless individuals often gather. This could be near railway stations, bus stops, or parks. Approach these individuals with empathy and respect. Offer them the clothes and engage in a conversation if they are willing. 
With a significant percentage of people in India struggling during harsh weather conditions, your clothing donations can bring warmth, comfort, and hope to those who need it the most. 
Whether you choose to donate directly to SERUDS India, contribute funds through our donation page, or distribute clothes in your neighborhood, every act of kindness matters. 
Together, we can make a positive impact on the lives of the less fortunate and help them lead a more comfortable life.