In this article: let's understand what is Daan Utsav 2023 and how one can make a charity with SERUDS NGO for different causes. 
Daan Utsav, also known as the Joy of Giving Week, is a beautiful celebration of the spirit of generosity and compassion that courses through the veins of our nation. 
Held in the first week of October every year (Read Daan Utsav 2020 article), it's a time when people from all walks of life come together to make a difference, to share a little happiness, and experience the profound joy that comes from giving selflessly.
The Significance of Daan Utsav:
Daan Utsav holds immense significance in our lives and society for several reasons:
Fosters a Culture of Giving: It encourages people to open their hearts and hands to those in need, fostering a culture of giving and empathy.

Strengthens Communities: Acts of kindness bring communities closer and strengthen the social fabric of our society.

Empowers Individuals: It empowers each of us to be a force for positive change, irrespective of our backgrounds or means.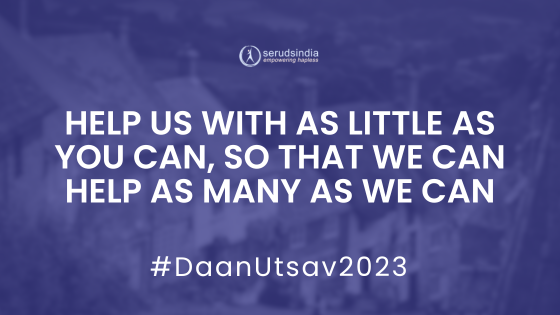 SERUDS and Daan Utsav 2023: Celebrating the Spirit of Giving
At SERUDS, Daan Utsav is more than just a week; it's a way of life. We embody the spirit of giving year-round, and during Daan Utsav, we shine an even brighter light on the causes we hold dear:
Orphanages:
Our orphanages are safe havens for children who have lost their families or are in vulnerable situations. Through Daan Utsav, we ensure that these children receive the love, care, and support they need for a brighter future.

Old Age Homes:
Elderly citizens often face loneliness and health challenges. Daan Utsav allows us to provide them with companionship, medical care, and a dignified life in our old age homes.

Women Empowerment:
Empowering women is a key focus at SERUDS. During this special week, we shine a light on the women-centric initiatives we undertake, such as vocational training, healthcare support, and women's empowerment programs.
Homeless Support:
Daan Utsav is a reminder of the importance of caring for the homeless. Our efforts during this time include distributing warm clothing, blankets, and essential supplies to those living on the streets.

During Daan Utsav, you too can be a part of our journey. Your contributions, whether in the form of donations, volunteer hours, or spreading the word, can make a profound impact. Visit our website serudsindia.org to explore the various ways you can get involved and contribute to our causes.
As we celebrate Daan Utsav 2023, let's remember that the joy of giving is not limited to a week. It's a lifelong commitment to making the world a better place. Join us at SERUDS in spreading the love and happiness that giving brings, and together, let's create a brighter, more compassionate world for all.