In India, where to donate? Is still a question. In this article, we'll discuss places and causes to safely perform charity. 
There are over 31 lakh operational NGO(s) in India as of now and each of them is working relentlessly on improving the lives of the needy and the poor. NGOs are voluntary citizen-based organizations that aim to help the suppressed and deprived people of the country. 
Any profit earned by such organizations is used for the upliftment of the deprived. For that purpose NGO(s) gain funding majorly from Donations.
Related Article:- Best NGOs in India to Donate | Genuine List
The impact of an NGO on society can not be looked over. Each NGO has a causes it works for. However, You have to remember that there is just one cause all the NGO(s) work for together: Humanity.
Winston Churchill brilliantly said, "We make a living by what we get, but we make a life by what we give." 
---
LISTEN TO THE PODCAST VERSION OF BLOG:-
---
So if you have been asking yourself " Where to donate?", "How can I help ?". We hope that you get some ideas from this.
Here's Where You Can Donate To Different NGO Causes:
HelpAge India for Elderly care
HelpAge India is an NGO that is working with and for the disadvantaged elderly people in India. They have been working to provide healthcare facilities and rights (among many other things) for over 4 decades.
HelpAge India has established model homes for the aged in places such as Patiala & Gurdaspur in Punjab, Cuddalore in Tamil Nadu and Kolkata in West Bengal. Besides these, HelpAge has also supported over 60 old age homes across India. 
SERUDS for elderly and children
SERUDS is an NGO working for the welfare and development of deprived street children, orphans, destitute women and poor old age people. It has been working since 2003 through its need-based programs focused on access to education, food, livelihood training and healthcare.
SERUDS has worked to provide creche centers for more than 180 underprivileged children. It also provides 6months skill development training in computers to unemployed youth.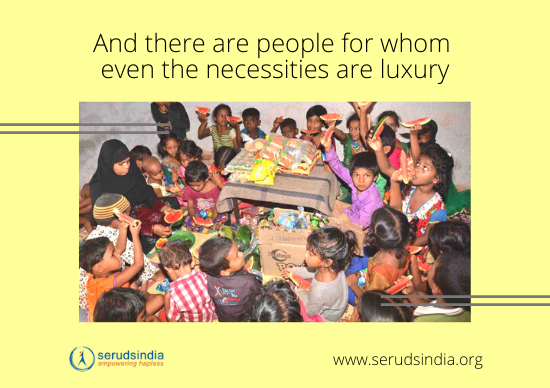 CRY: Child Rights and You working for Childcare
Child Rights and You is a non-profit and non-government organization in India working towards the upliftment of underprivileged children across the country. CRY works towards several causes for children, one of them being malnutrition.
It introduced kitchen gardens in anganwadis in Chhattisgarh to provide fresh and healthy food to children. This not only came as a boon to the underprivileged children but also accelerated the anganwadi workers in the same direction. 
Aarti For Girls Working For Girl Child Protection
Aarti for Girls stands for Women Empowerment Support Girls Education Women and Girls Well-being. It began as a shelter known as Aarti Home for abandoned children. With over 1,000 children passing through its doors, Aarti Home has become a haven for children who have suffered abuse, trafficking, and abandonment. 
Goonj for Rural Development
Goonj is a Non-Profit Organisation headquartered in Delhi, India which undertakes disaster relief, humanitarian aid and community development.
Goonj has several campaigns, one of them being 'Share a Bite to your Heart's Delight.' It is a venture to encourage people to contribute daily essentials like rice, pulses and so on to the less fortunate.
Udaan Welfare Foundation For Healthcare And Environment 
Udaan Welfare Foundation works towards quality healthcare, keeping in mind a positive impact on the environment. It also works towards other causes that go hand-in-hand with healthcare, such as nutrition, taking a sincere effort to achieve its ideals.
Udaan supplies monthly rations for daily breakfast for the 50 to 60 resident children. Udaan has also carried out a dental health check in the Harikishan English Public School.
There are many other NGO(s) that work for causes to make this world a better place. This was just a snippet of the list of the NGO(s).
Get started with your charity work. Click below to go to the donation page and we're also accepting UPI donations. Scan the code and donate. Click here