National Girl Child Day 2020 celebrations in Kurnool with SERUDS NGO and Save The Child Foundation at IGMM High School. Read the full story.
Every year the 24th of January is celebrated as National Girl Child Day in India. It was started by the Ministry of Women and Child Development. With a sole agenda to spread the awareness about the consequences Girl Child faces.

SERUDS NGO in collaboration with Save The Child Foundation (USA) organized an amazing gathering in honor of girl child at Indira Gandhi Municipality School in Kurnool. 
The Event was duly organized and supported by Save The Child Foundation (USA)
Under the event, distribution of education material was performed and hundreds of girl children were benefited out of it.
Here are some of the glimpses of National Girl Child Day 2020 Celebrations:
Ravi Kantamshetty the CEO of Save the Child Foundation Wrote on FB as follows:
SERUDS President Mallikarjuna Gorla was also one of the dignitaries and conveyed his message for all the girls, "Get educated, create opportunities, rule the world".
Visit this FB post directly if the embedded post isn't working.
Media Coverage Of National Girl Child Day:
Here's some of the coverage of top regional newspapers of the Kurnool region: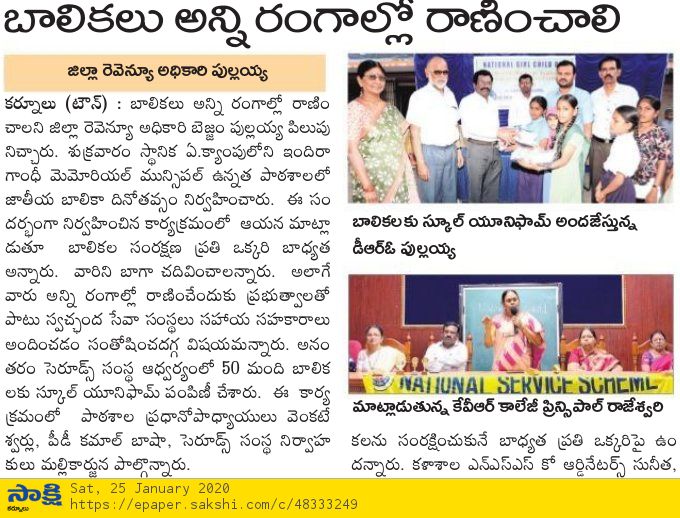 Courtesy: Sakshi, Praja Sakshi, etc.