In this blog, we'll shed light on the pressing issue of cancer treatment affordability, our mission to provide aid, and how your donations can make a difference.
Cancer is a relentless adversary, striking without discrimination and affecting millions of lives in India.
However, the battle against cancer becomes even more daunting when one lacks the resources for treatment. At SERUDS India, nestled in the heart of Kurnool, Andhra Pradesh, we recognize the urgent need for support. 
Listen it on Spotify:
Why it is Important to Donate for Cancer Patients in India:
In a country where healthcare costs can be a significant burden, cancer treatment expenses often lead to a heartbreaking choice between health and financial stability. Recent statistics indicate a staggering number of cancer-related deaths and suffering due to the inability to afford treatment. This reality underscores the urgency of our cause:
High Treatment Costs:

The cost of cancer treatment, including surgery, chemotherapy, and radiation therapy, can be exorbitant, placing an immense burden on patients and their families.

Financial Distress:

Many families are forced into financial distress, selling assets, and exhausting savings to access medical care for their loved ones.

Lack of Access:

Access to quality cancer treatment remains a challenge, especially for those in underserved communities, exacerbating the suffering.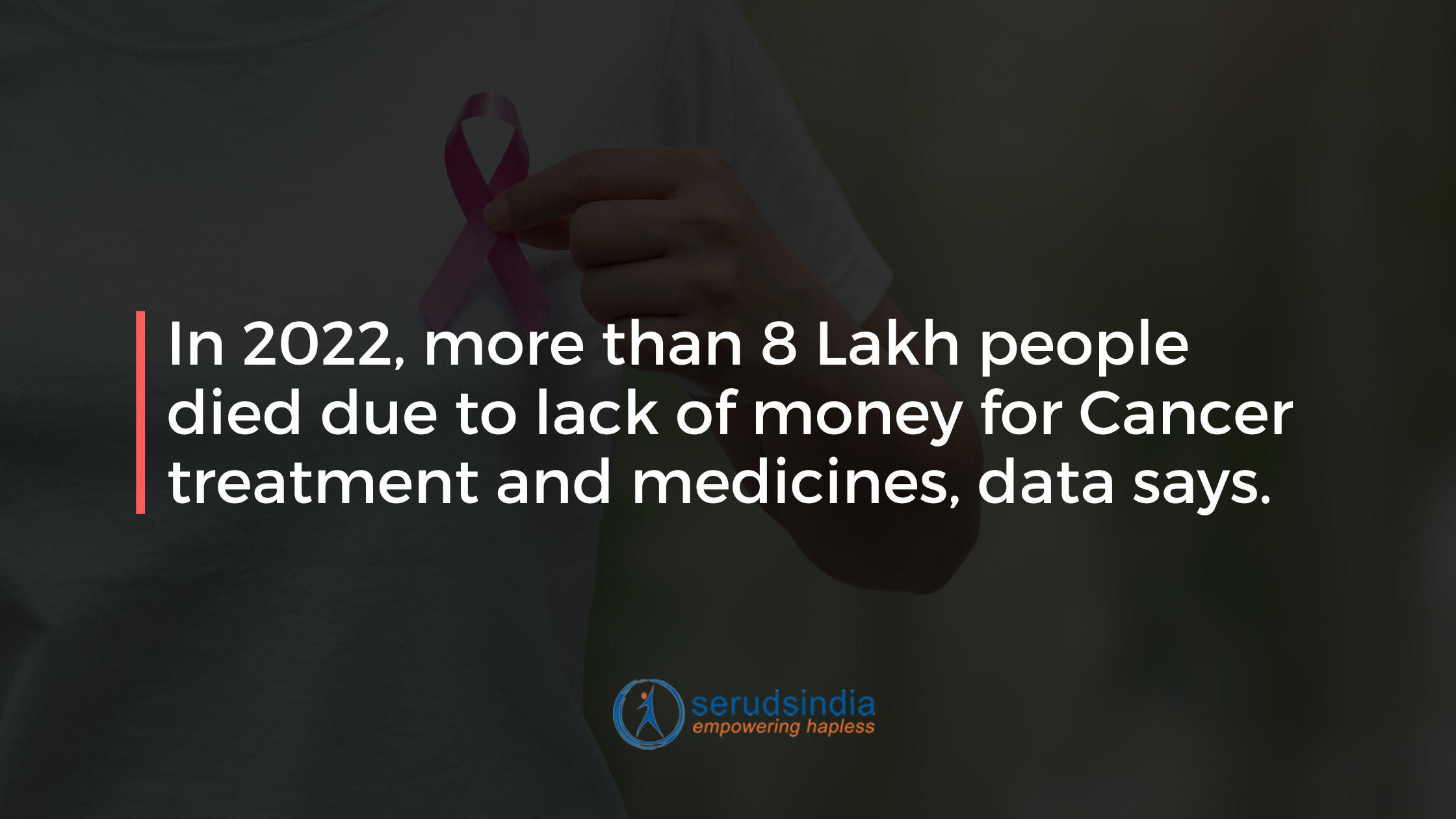 How Donation For Cancer Patients are used by SERUDS:
At SERUDS India, our mission is to provide a ray of hope to cancer patients, especially among poor elders and children who are most vulnerable to the devastating impact of the disease. Here's how your donations can help:
Financial Assistance:

Your charitable contributions enable us to provide financial assistance to cancer patients for treatment, medications, and associated expenses.

Support for Elders

: SERUDS offers a lifeline to elderly cancer patients, ensuring they receive proper care and support during their challenging journey.

Children's Welfare:

We prioritize children battling cancer, ensuring they receive the care and treatment they need to fight the disease and live healthier lives.
How Your Donations are Utilized:
We understand the importance of transparency in charity. When you donate to SERUDS India, you can rest assured that your contributions are put to good use:
– Direct Assistance: Your donations directly support cancer patients by covering their medical bills, medications, and essential expenses.
– Awareness and Education: We use a portion of your contributions to raise awareness about cancer prevention, early detection, and the importance of timely treatment.
– Medical Camps: SERUDS organizes medical camps to provide free check-ups, cancer screenings, and support to underserved communities.
How to Donate to SERUDS:
Making a difference is simple: Visit our website to make a secure online donation. Click here
Your contributions can light up the path to recovery for cancer patients in need. Join us in our mission, and together, we can make a profound impact on the lives of those battling cancer.
Frequently Asked Questions About Donations for Cancer Patients:
What is the most famous cancer charity?
   – Globally, organizations like the American Cancer Society and Cancer Research UK are well-known for their cancer research and patient support efforts.
Which organizations help cancer patients financially in India?
   – In India, NGOs like SERUDS India work diligently to provide financial assistance and support to cancer patients in need.
Who donates money for cancer patients?
   – Donations for cancer patients come from compassionate individuals, organizations, and philanthropic foundations who believe in the importance of helping those facing this formidable disease.