From the vast expanse of the USA to the heart of India, your support has the power to catalyze transformative change and nurture communities in need. 
At SERUDS, we remain steadfast in our commitment to fostering sustainable development and social upliftment across various spheres. 
In this article, we extend a heartfelt invitation to donors from the USA, urging you to partake in our multifaceted initiatives aimed at creating a more equitable and compassionate world.
Causes Supported by SERUDS: Illuminating Lives and Communities:
Education for Underprivileged Children:
Your contributions enable us to provide holistic education and learning resources for underprivileged children, empowering them to realize their full potential and contribute meaningfully to society.
Healthcare and Medical Aid:
Through our healthcare initiatives, we ensure that marginalized communities have access to vital medical services, treatments, and preventive healthcare measures, promoting a healthier and more resilient society.
Women Empowerment and Skill Development:
By supporting our women empowerment programs, you champion the cause of gender equality and women's economic independence, fostering a community of self-assured and empowered women entrepreneurs and leaders.
Elderly Care and Dignified Living:
Our initiatives for the elderly encompass providing comprehensive care, emotional support, and healthcare services, ensuring that our senior citizens live with dignity, respect, and a sense of belonging.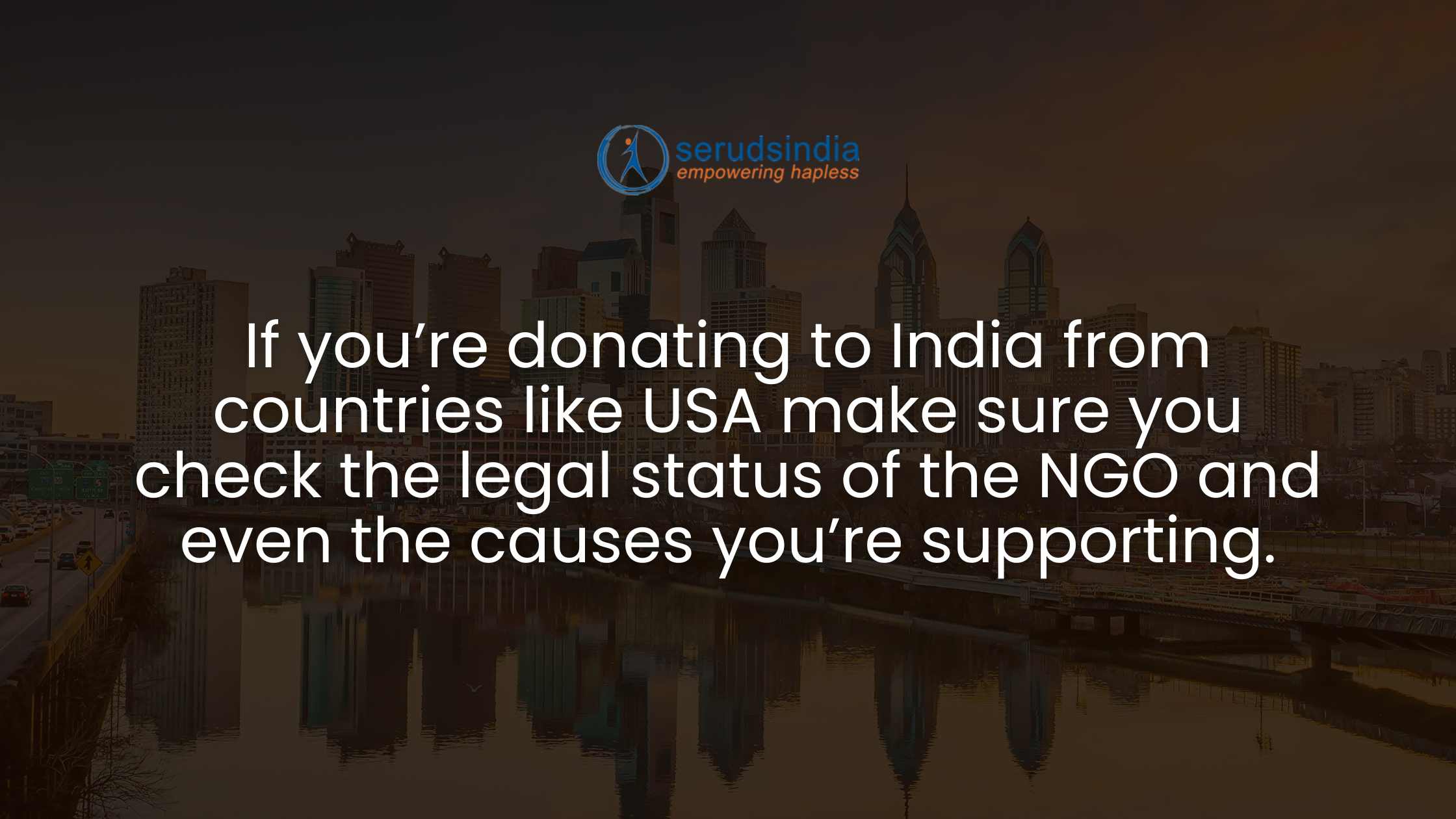 Reaching Out to Donors in the USA: Your Support is the Catalyst for Change:
Orphaned Children and Vulnerable Families:
Your contributions serve as a beacon of hope for orphaned children and struggling families, offering them the necessary support, care, and resources for a brighter and more promising future.
Empowering Women Entrepreneurs:
By supporting our women empowerment endeavors, you nurture the spirit of entrepreneurship and self-reliance, uplifting not just individual lives but also fostering a more inclusive and progressive society.
Health and Well-being for All:
Your donations play a pivotal role in ensuring that individuals and families, especially those from marginalized backgrounds, have access to essential healthcare services, promoting a healthier and more resilient community.
Secure Payment Gateways for USA Donors:
Your peace of mind is of paramount importance to us. SERUDS extends support for the following secure payment gateways for donors from the USA on our website.
PayPal: Utilize the secure and seamless PayPal payment gateway to make your contribution, ensuring that your generosity reaches the intended causes transparently and efficiently.
Credit/Debit Card Payments: Opt for secure credit or debit card payments, with robust transaction protocols in place to safeguard your financial information.
Online Banking Transfers: Choose the convenience of online banking transfers through our trusted banking partners, facilitating seamless and secure transactions for your philanthropic contributions.
Your invaluable support from the USA serves as a beacon of hope and empowerment for communities in India. 
By joining hands with SERUDS, you become an integral part of our collective mission to foster holistic development, empower lives, and build a more resilient and inclusive society. 
Together, let's pave the way for a brighter and more promising future for all, transcending geographical boundaries and fostering global solidarity.