In this blog: Let's discuss what NGOs and crowdfunding support in order to make a charity from the USA to India.
People who live in the USA often show interest in donating to various causes and NGOs of India. It's been a Notable fact that people from the USA and other countries are always keen on supporting The deprived section of the society. 
Being an NGO from India we thank you all for your love and support. The article is specifically for listing down the authentic NGOs and crowdfunding sites.
Here Are The Trusted NGOs In Crowdfunding To Make A Charity From USA:
This article is basically an archive of two of our articles whose information binge-worthy to read. 
Trusted Crowdfunding Sites To Donate:
1. GlobalGiving Foundation, USA:
GlobalGiving is the world's first crowdfunding online portal for NGO donations. Considered as the safest medium to donate, it operates thousands of NGOs spread across 170 countries. The interface on their website allows trusted NGOs to build their profile and post the projects and people can donate accordingly. Click to donate
2. Milaap Crowdfunding in India:
Milaap is the simplest fundraising platform established around a decade ago. Milaap has spread Tits roots to raise medical treatment funds as NGO donations in India. Mentioned in a post by Hindustan Times Milaap has raised more than 280 crore funds for needy people. Click to donate.
3. iCharity NGO Donations Platform:
iCharity is both a mediator that accelerates
the procedure of donations and also reaches out to massive people whose heart melts for the needy people. One of the most reputed portals for charity, iCharity is a trusted platform that is partnered with several NGOs. (and Seruds is one among them). Click to donate.
4. Give2Asia Nonprofit:
Based in USA, Give2Asia is an NGO that accepts online donations. It monitors in more than 26 countries and helps people get the right donations at the right time. Give 2 Asia accepts charity across the globe but it focuses more on deprived people in Asia. Click to donate.
Authenticated & Verified Source: View here.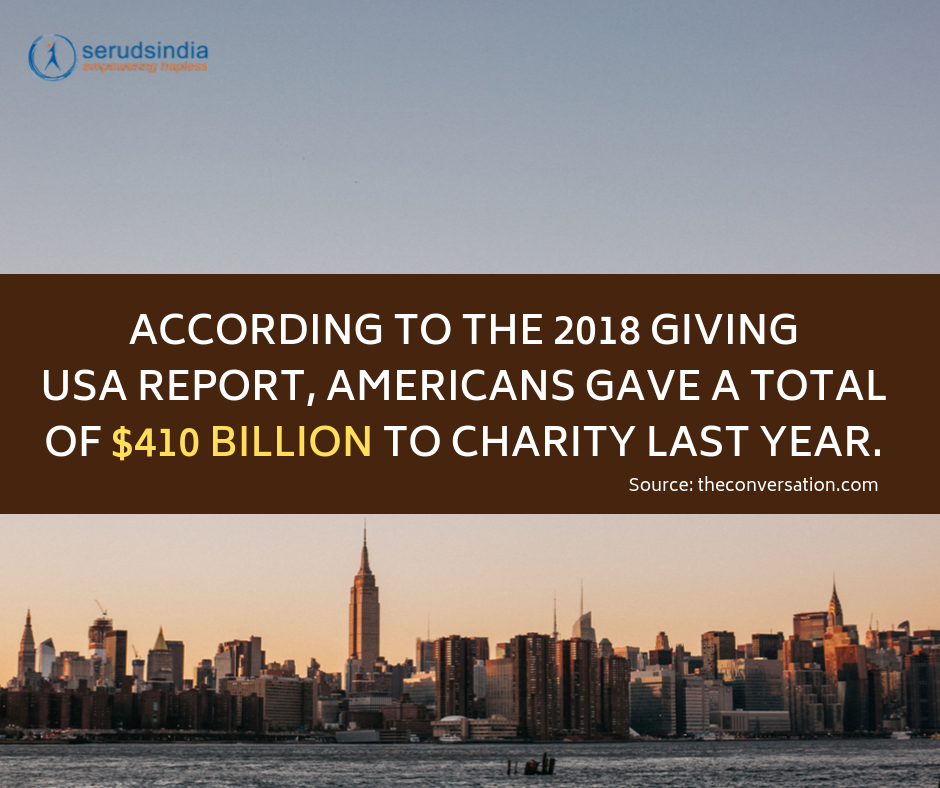 Best NGOs in India to Donate:
1. Smile Foundation:
Smile Foundation is apparently ranked as the best NGO in India considering its long-lasting spirit of working towards thousands of children. Statistically, Smile Foundation reached 400,000 orphans providing education, health, food and a better life. 
2. Save The Children:
One of the oldest charitable organizations, Save the Children is an international NGO which extended its roots in India and now works for the betterment of backward and orphan children. Headquarters in the UK, Save the Children is Indeed the best NGO.
3. GiveIndia Foundation:
Unlike other Charitable organizations, GiveIndia isn't an NGO but its India's largest donation platform. The website started with a unique idea of bringing together all the NGOs in India and increasing the exposure in the eyes of donors.
4. Cherish Foundation:
Hyderabad's one of the best NGOs managed to save its spot at number 4. Cherish Foundation is not just NGO, it's a home where kids stay comfortably and call their warden, Daddy. The NGO serves many kids in Hyderabad for education, health, and career path.
5. Goonj NGO:
Widest NGO spread over 23 states in India, the charitable organization works on the betterment of rural and suburban section to decrease the disparity. Established 2 decades ago, Goonj NGO contributes more to the clothing welfare of India.
Authenticated & Verified Source: View here.
These are the trusted NGOs and crowdfunding sites to donate to charity from the USA. Have something to share? Leave a comment or tweet us on our official handle @Seruds