Big Billion Smiles: We're announcing our charity campaign for Dussehra donations in India to help needy children and elders celebrate the festival.
Amazon's 'Great Indian Festival' is here and also the 'Big Billion Days' of Flipkart. We spend an unthinkable amount of money on these. Last year, they made a revenue of more than 19,000 crore rupees (record-breaking).
The festivals are not so colorful for everyone. There are lakhs of people who struggle to have one good meal. 
We try our best to get something special for children at our orphanage and elders at our old age home but even after the hardest struggle, many have to wear torn off clothes on auspicious days of Dussehra and Diwali.
This year SERUDS president, Mallikarjuna Gorla announced a charity campaign along with the whole team.
Big Billion Smiles – Charity Campaign for Dussehra in India
The campaign focuses more on providing something to the needy people. The campaign is merely an appeal to the people to at least contribute 1% to 5% of their spending capacity to the needy people.
SERUDS on the other hand, will collect all the donations and distribute it for various purposes (charity causes) like clothes, food, etc.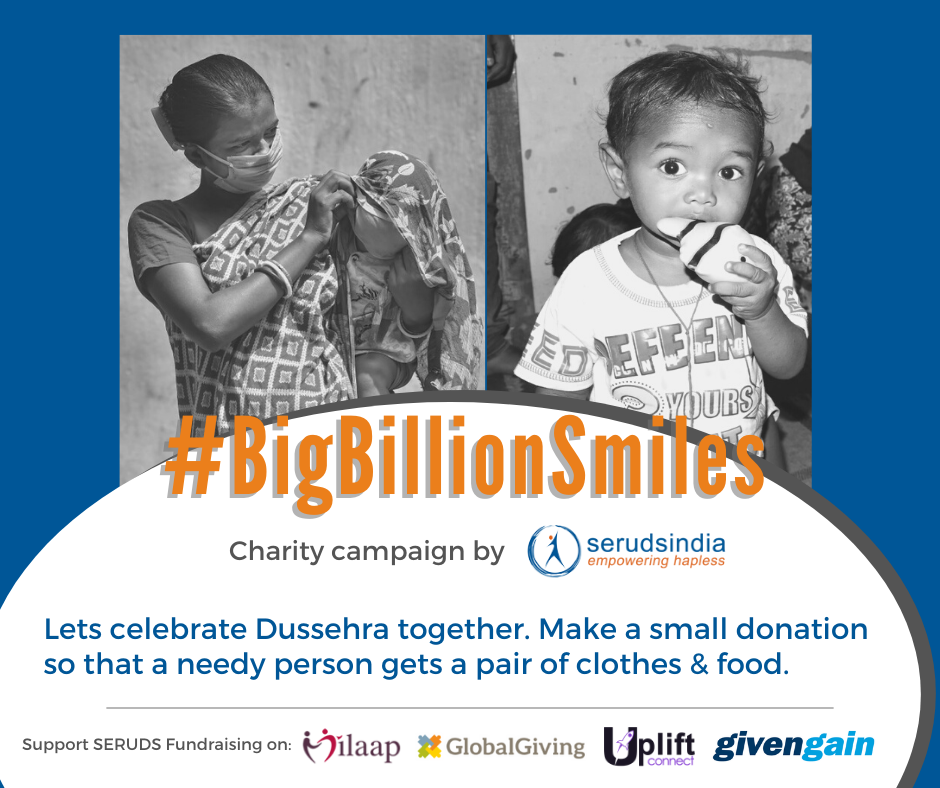 The logic behind the charity campaign, 'Big Billion Smiles' is pretty simple. For example, you are spending 1000 rs on your own clothes, donate as low as 10 rs for the needy. With such a simple donation for Dussehra in India, lots of people can be benefitted.
Not just money, Big Billion Smiles also focuses on donating your clothes that are probably lying in the closet for years. Sometimes, toys and books might bring smiles to someone who never gets it. (heartbreaking but true). 
The easiest way to help us is to use your social media channels, Spread the word about us. Mention @SERUDS in your tweet with the hashtag: #BigBillionSmiles.
Honestly, it's not about 'how much one person donates' but 'how much love he donates'.Go ahead and click on the donate button to help the needy. Alternatively, click here.