What Role do NGO's Play in Today's Society
Non-governmental organisations (NGOs) play a critical role in today's society as compared with governments and the corporate sector. NGO's fulfill the government's shortfall in services and social protection for citizens. They do so not by making profits but with donations, grants and CSR funds of corporate.
Charitable organizations provide assistance to people who are the victims of war, natural disaster, or suffer from hunger, disease, poverty, oppression from society or governments, and orphans and abandoned children. They help them with food, shelter, medical care, legal recourse and education.
One of the advantages of an NGO over government is its flexibility and speed of action. NGOs are not hampered by bureaucratic procedures and political pressures. They can mobilize resources and people for rapid action whenever disaster occurs. They have better grass roots connections with the communities they serve and are better placed to identify the genuinely needy.
One of the relatively unknown contributions of NGOs has been to change the way society, governments and other organizations view poverty. NGOs have demonstrated the multidimensional nature and dynamics of poverty, and how different kinds of lack (housing, employment, access to health, education, and justice) mutually reinforce each other and condemn them to a cycle of poverty and injustice.
In this context, it is helpful to know which are the top charitable NGOs in India, who we can support.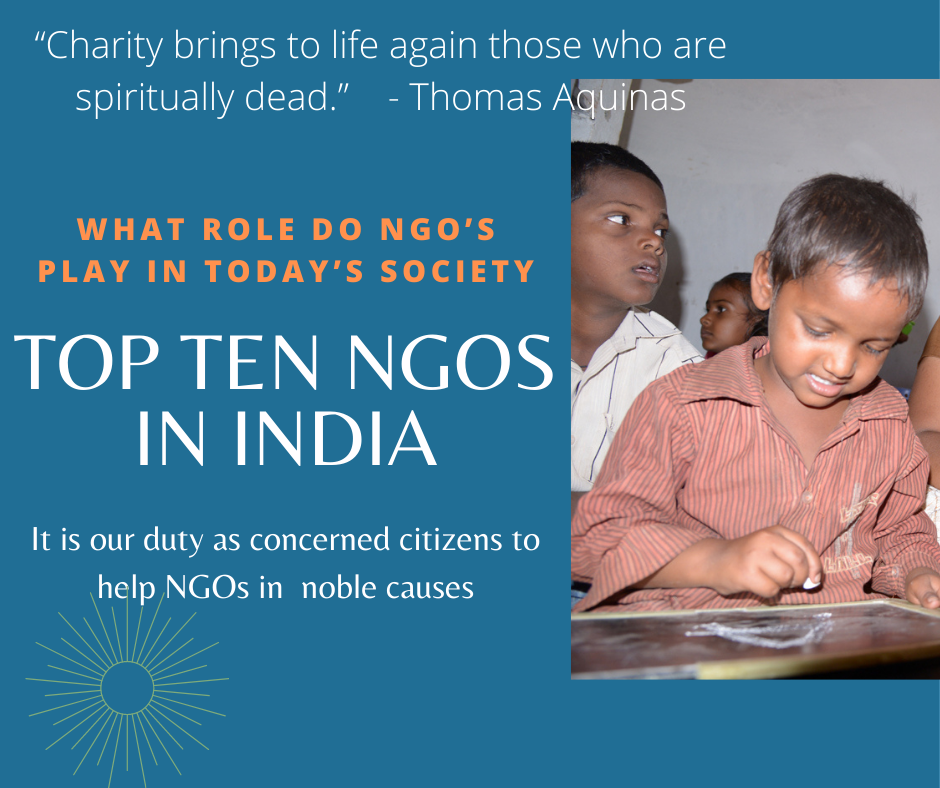 Top Ten NGOs in India
We present here a curated list of major Non Governmental Organizations [NGOs] in India, which mainly work for child and woman welfare, with the help of donations from organizations, and individuals.
Many of the NGOs in India are doing yeoman service for the underprivileged, and making an impact in the lives of those whom they serve.
1. Smile Foundation
Smile Foundation which is based in New Delhi, works pan India and has a presence in 25 Indian states. The main goal was to promote education among the underprivileged. Their development program includes health care, education, livelihood for children and women, etc.
2. Nanhi Kali
Nanhi Kali supports education for underprivileged girls in India and is part of the Mahindra Group's corporate social responsibilities.
3. Goonj
Goonj is a non-governmental organization based in Delhi, India. It performs disaster relief, humanitarian aid and community development work in parts of 23 states of India. It was founded in 1999 by Anshu Gupta. For his work with Goonj, he was awarded the Ramon Magsaysay Award in 2015. In 2012, he was named India's Social Entrepreneur of the Year 2012 by the Schwab Foundation, a partner organization of the World Economic Forum.
Goonj has started with 67 garments and now deals over 3500 tonnes of material every year.
4. Helpage India
HelpAge India is an Indian organization focused on the concerns of elders. Established in 1978, its mission is to "work for the cause and care of under-aged elderly people and improve their standard of living". HelpAge is taking action against Elder Abuse at the national, state and social levels with the central and state governments and advocates for the needy. It runs various age care programs to cater to the larger needs. It aims to serve the disadvantaged elders holistically so that they can lead an active, dignified and healthy life.
5. CRY (Child Rights and You)
CRY is an Indian non-governmental organization that helps restore children's rights to build a society that promises equality, justice and respect. CRY partners with organizations to uplift thousands of Dalit children. CRY works at all levels, including advocacy, awareness-raising, direct action and policy changes, to ensure a healthy, happy and creative childhood.
6. Care India
CARE India has been working in India for 68 years and is a non-profit organization, focusing on reducing poverty and social injustice. Care runs projects in health, education, livelihood and disaster relief and response. Care's overall goal is to empower women and girls from poor and marginalized communities and improve their lives and livelihoods.
It is a part of CARE International Confederation, which operates in 95 countries of the world, where all people live with dignity and safety.
7. Childline India Foundation
CHILDLINE 1098 is a phone number that spells hope for millions of children across India. It is a 24-hour a day, 365 days a year, free, emergency phone service for children in need of aid and assistance. The helpline not only responds to the emergency needs of children but also links them to relevant services for their long-term care and rehabilitation.
8. Sammaan Foundation
Samman Foundation is actively engaged in community service through several grassroots initiatives including extensive work in health and livelihoods.
9. Pratham
Pratham works towards the provision of quality education for underprivileged children in India, working across 23 states and union territories in India.
Education is both the means as well as the end to a better life: the means because it empowers an individual to earn his/her livelihood and the end because it increases one's awareness on a range of issues – from healthcare to appropriate social behaviour to understanding one's rights – and in the process help him/her evolve as a better citizen.
10. Sai Educational Rural & Urban Development Society (SERUDS)
Seruds is a hidden gem and NGOs and is based in Kurnool, Andhra Pradesh. It undertakes a wide range of projects for orphans and abandoned children, destitute elders, abandoned poor women, jobless young people in rural areas, poor students, disaster relief such as COVID-19 pandemic and poor patients in hospitals.
Some of the major projects are JoyHome Orphanage, creches or daycare centers for poor children,  Happy Old Age Home, midday meals and monthly rations for poor elders [Sponsor an Elder] and sponsorship of poor students.  You can donate to its causes here :
Conclusion
Charitable organizations and NGO's are usually founded by people who are passionate about improving the lives of needy people, and sometimes by people who have witnessed first-hand or themselves suffered hardships. It is our duty as concerned citizens to help them in all ways we can such as donations and by volunteering.