Importance of charity for special children in India. The list of causes and how donations can be benefiting the differently-abled kids for education, speech therapy etc.

Today in our articles let us discuss God's own kids… Special Children. Ever wondered that your donations could also help the special children? We majorly discuss problems faced by poor children but there is also a section called "Special Children" that needs our attention too.
" Children are angels". The special children are those who need extra help to perform certain activities. It might be physical or psychological. Difficulty in speaking is one such physical disorder where the children couldn't pronounce the words clearly. It takes a lot of effort to speak, unlike the other children who can speak clearly and smoothly. They cannot speak quickly. It takes A lot of time for them to speak clearly.
Related Link: Donate Computers to Poor for Online Classes.
There are various special speech therapy centres that could help them overcome this difficulty. They train the children how to speak fluently and clearly with different techniques. The therapist demonstrates how to make sounds. They teach how to move their lips. These therapy centres help them regain the confidence they lost due to their inability to speak properly.
The worst part is that we make fun of those children. We humiliate, laugh, comment on them. Are we even concerned about how they feel? Can we even imagine what they are going through? No, indeed that's Human nature.
Let's Have A Look On How Your Donations Are Used To Help Special Children
Special Speech Therapy for Children:
SERUDS have decided to conduct Special Speech Therapy sessions for such special children who face difficulty in speaking. It could help them face society with confidence. These sessions will surely benefit them lifelong. It will change their life completely. They could speak properly. Nothing could be better than helping a person in a way that could benefit them lifelong.
Nutritious Food for Special Children:
Apart from conducting these sessions we also provide food to the poor people including the special children with your donations. There is a need to take special care of the food for the special children. The food provided should help them improve their condition as they might be on medication. Explore Food Donation Causes.
Also, during Lockdown we have helped migrant labourers by providing cooked meals as well as with ration kits(essential commodities kit). Even after these many months of lockdown, there are many daily wage earners who couldn't find jobs. It makes it difficult to survive for them.
'Special Education' for Special Children:
Educating the Special Children needs special efforts. Along with normal education, they should be provided speech sessions, unlike others. We focus on providing them Education+Special Speech Therapy with your donations which would not only provide education but also help them speak. Also, there are many poor children who do not have access to proper education. It could be due to poverty. People are not financially stable to bear the expenses of school fees, notebooks, stationery and even uniform.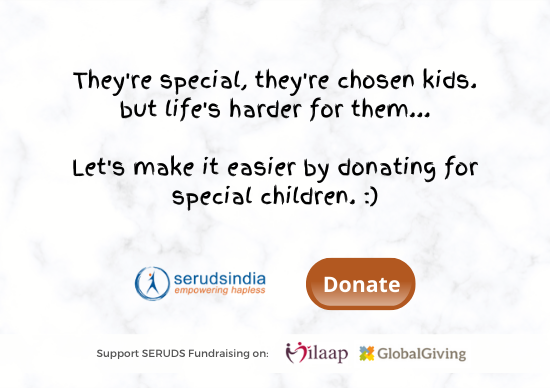 Govt schools charge less so that it can help the poor children. However, in India, the percentage of girls is higher than boys when it comes to illiteracy. A higher percentage of girls are deprived of education. With your donations, SERUDS help these kids. We have various projects such as Donate Education kit for Poor Girls, Sponsor Child Education, Education Material Scholarship. You could sponsor a child for education just by donating Rs.2000 per month.
Medicines for Special Children:
The term Special Children refers to children who need extra help. They might be physically or psychologically challenged. Some of them may also need medical help. Especially Children who have psychological or mental disorders need medication. With the help of your donations, we ensure to provide them all the necessary medicines.
If one needs some extra help to do something, what's wrong in that? Even you may need some extra help to do something or the other, isn't it? So why can't we just normalize the scenario? 
Let's come forward and help these special children. Let's just not make them feel left out in society due to something that God has given them. Let's donate and help these Special children In every possible way we could.
I confirm the subscription of this blog to the Paperblog service under the username ananyaseo