SERUDS President Mallikarjuna Gorla Awarded For Immense Charity Work
Highlights: SERUDS Founder & president Mallikarjuna Gorla has been awarded and felicitated for his service to humanity and society.
On occasion of 71st Republic Day, this 26th of January 2020 the whole nation stood once again together for the respect of the constitution of India. 
The tricolor flag was up high again and patriotism was visible in the eyes of every Indian.
During the flag hoisting ceremony, there was an announcement of a special award for charitable deeds and social work.
Seruds President Mallikarjuna Gorla was felicitated and honored with the prestigious award for his immense charity work. 
Here's awarded certificate: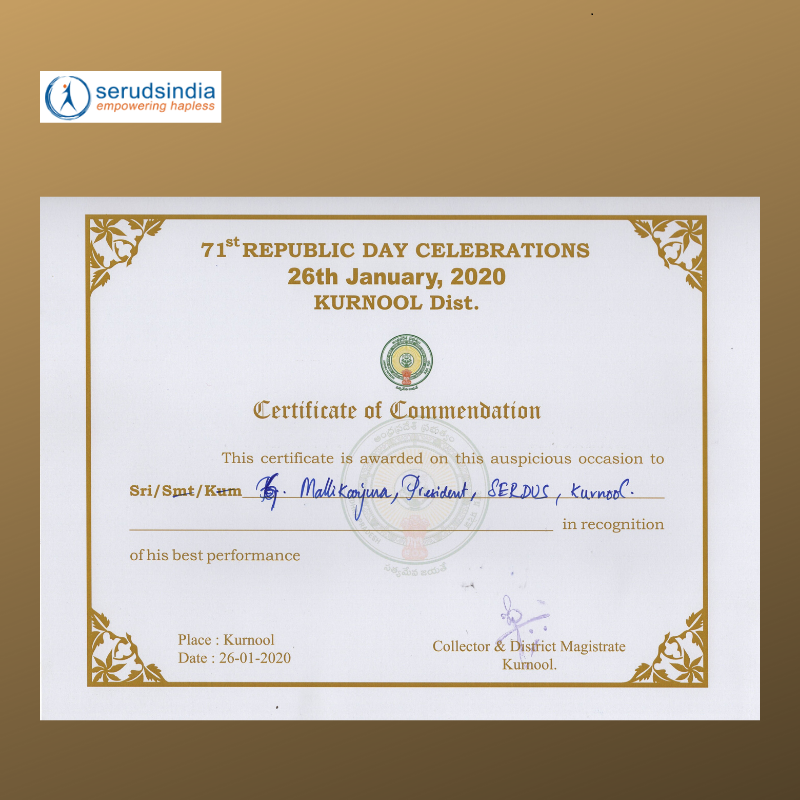 About Mallikarjuna Gorla:
SERUDS Ngo was founded in the year 2003. Mallikarjuna Gorla being an engineer, took social service as his profession and after his decades-long hard work, he made SERUDS what it is today.
This is not the first time Mallikarjuna Gorla was awarded for his immense charity work. His earlier awards and achievements include this. Save The Child Foundation Awards Mallikarjuna
Kudos to Mallikarjuna Sir and the entire SERUDS Team.
Once again, Congratulations…