Let's explore in this article the absolute necessity of hygiene awareness and why one shall donate sanitary pads to underprivileged girls in India.
India is a place with diverse culture and people live with harmony. Even with social distancing and the pandemic prevailing around, the eid celebrations across the nation went smoothly. 
---
LISTEN TO AUDIO VERSION OF THIS BLOG:-
---
The huge rise in COVID-19 in India for the past few days is the only thing that shall bother us. This indicates there are many people yet to be educated about hygiene and basic do's – don'ts. 
Many can't afford the masks and sanitizers for which we raised funds and we'll continue to do so. (Click to donate N95 masks). However, there are many hygiene parameters out of which, the sanitary pads are one of the most important.
Donate Sanitary Pads to Underprivileged Girls:-
Considering the fact that many even in 2020 the proper sanitation facilities are not provided in many rural areas of India, for many underprivileged girls sanitary pads are some sort of luxury. 
Stats as per India Times says that 62% of women in India use cloth during menstruation. Which is so unhygienic that it may lead to several diseases.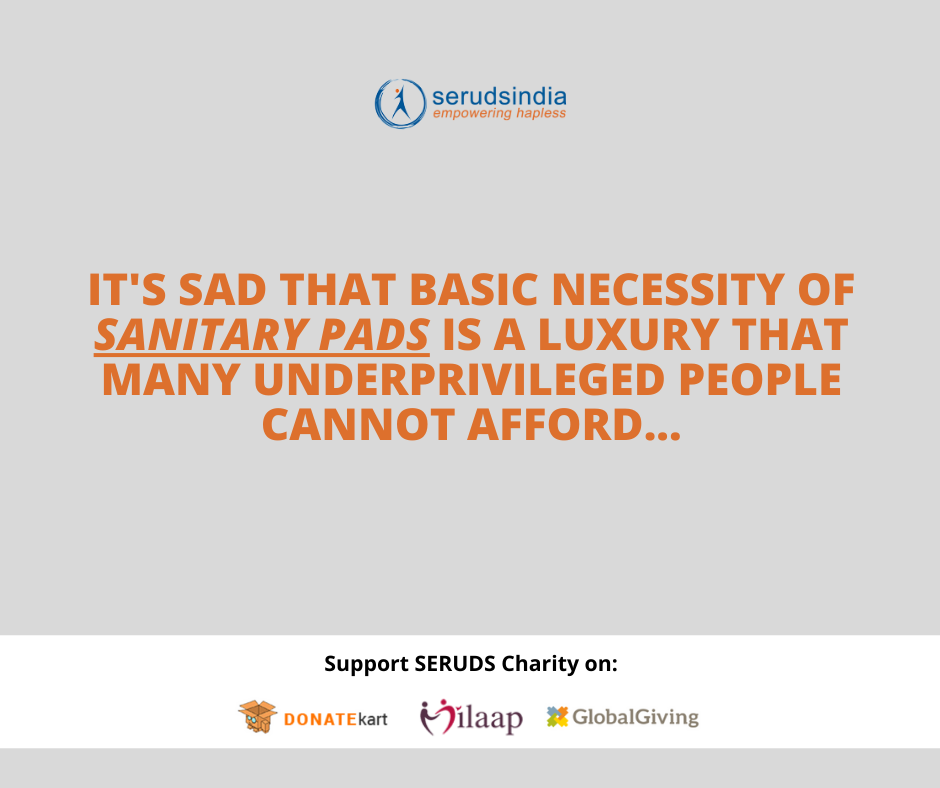 But why is it so? Why women, majorly in rural areas of India are not provided with safe sanitary pads. 
There are 2 possible reasons. 1st, they don't have enough awareness & 2nd, they cannot afford it.
Sad but true. For some people even necessities are luxury. 
We urge people to donate as much as possible for the charity of sanitary pads.
Support SERUDS Causes on Top fundraising platforms:
About SERUDS:-
Sai Educational Rural & Urban Development Society (SERUDS) is a regd Charitable Nonprofit Organization in Kurnool District of Andhra Pradesh, India working for the welfare and development of deprived street children, orphans, destitute women, poor old age people. SERUDS has been working since 2003 through its need-based programs focused on access to education, food, livelihood training, and healthcare.